The NUT Hustings were attended by the 5 candidates in the Shrewsbury and Atcham 2017 General Election, and the event was recorded.
Candidates present
Labour – Dr Laura Davies
Green – Emma Bullard
Liberal Democrat – Hannah Fraser
Conservative – Daniel Kawczynski
UKIP – Edward Higginbottom
Are statements backed up by the evidence?
Daniel Kawczynski claimed that the education cuts identified by the NUT, on the schoolcuts.org.uk website, were incorrect. This is not true, as was pointed out to him by drawing attention to IFS figures, and website guidance.
Source of schoolcuts.org.uk data and methadology
The BBC also admit that the cuts are real, on a Radio 4 program. Please go to 41min 55sec.
Channel 4 video about cuts to School funding
Shropshire Local Authority is forecast to lose the equivalent funding of 417 teachers by 2020.
NUT response to the Conservative Manifesto 
Letter to the Prime Minister asking why the promise that "we will not allow state schools to make a profit" has been removed form the Conservative 2017 manifesto.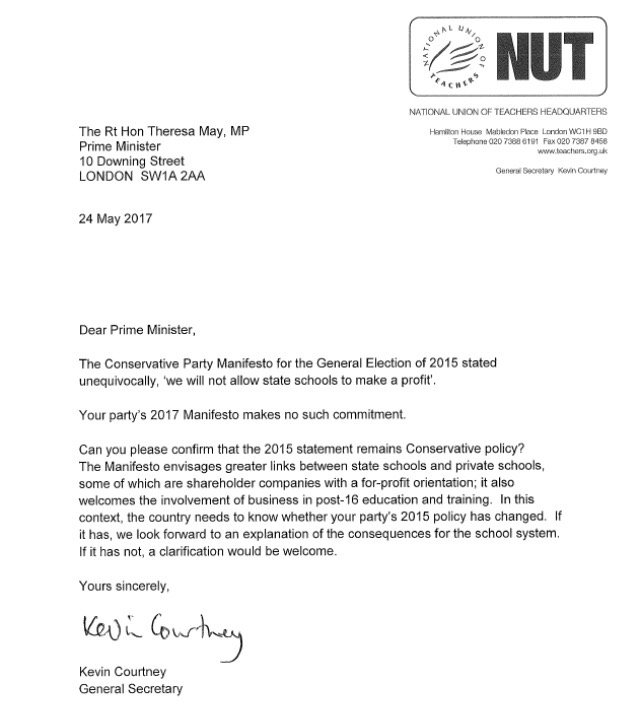 NUT compares the Labour, Conservative, and Liberal Democrat Education manifesto's.
Jeremy Corbyn spoke at the National Association of Head Teachers (NAHT) conference in Telford a few weeks ago and received a standing ovation.
Labour will pay for the increased funding to education by increasing the Corporation Tax rate. Unlike the Conservatives manifesto, the Labour manifesto is costed.  This issue was also brought up at 28min 30sec on the Andrew Marr show. The Conservatives free school breakfast pledge has been costed at just 7p a meal.
Evidence to support raising the Corporation Tax Rate.
Evidence of the Tory £93bn handshake: businesses pocket huge subsidies and tax breaks.
Discussion about the deficit and debt record of this country, by Chris Philp, a Conservative MP on the Treasury Select Committee, and UCL professor Mariana Mazzucato.
Daniel Kawczynski rightly points out that unemployment has fallen in the past 7 years, from 7.9% to 4.6% (about where it was before the financial crash of 2008), but failed to point out that we have a record 1 million people now on zero hour contracts, and real wages have also fallen during 7 years of a Conservative/Lib Dem government.
Daniel Kawczynski stated that income tax revenue went down when the last Labour government increased the top tax rate from 45p/£1 to 50p/£1. Similar arguments have been said that revenues went up, when the coalition government reduced the rate back to 45p/£1 in 2013, but have since been disproved.  There is good evidence by the LSE to support the fact that tax revenue will likely increase with a raised level of income tax, if done along side measures to stop tax avoidance.
Video 1
Introductions to start
Question- School cuts/funding at 8mins
Video 2
Question 1 – University Centre at Shrewsbury
Question 2 – Grammar Schools and Academies at 8mins
Video 3
Question 1  – Testing and SAT tests
Question 2 – Closure of rural schools at 12mins 15sec
Question 3 – Teaching Assistants at 19mins
Here are also the links to other video's made by the NUT about our local and national education service
Report on Coleham School and Academisation
Report on Grammar Schools
Report on SAT tests
Report on the National Funding Formula